About EPI
EPI's global services delivery is able to provide your organisation with all types of data centre services, be it data centre auditing, data centre audit certification, data centre consulting or data centre and IT training courses.  
With few exceptions, enterprises today rely on IT for the delivery of business-critical services - often directly to the end consumer. It is therefore vital that the mission critical data center is designed, maintained and operated with high-availability and efficiency in mind.
EPI has been delivering a wide range of data centre services since 1987, enabling businesses worldwide to design, implement, optimise, test, operate and maintain their mission critical data centre to ensure it meets and exceeds the business expectations.
EPI offers a wide range of globally accredited certified data centre professional training courses such as CDCP / CDCS / CDCE / CDFOM / CDRP / CDMS / CDSM / CTDC / CTIA / CTEA.  Courses enable organisations to educate and align their staff on data centre design principles, data centre efficiency, green data centre principles, data centre management, data centre operations management, security management, disaster recovery management, data centre migration, and ANSI/TIA-942 design and audit.
All courses are accredited by EXIN, an independent information management certification and accreditation body.
EPI© Data Centre Training Framework - Operations/Governance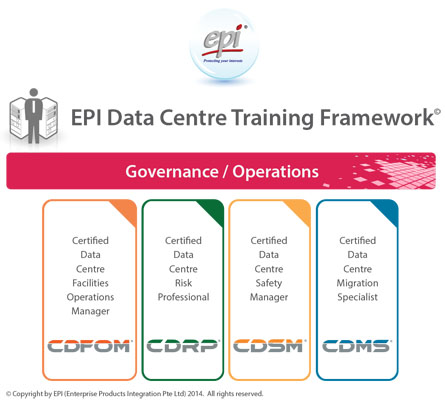 CDFOM® - Certified Data Centre Facilities Operations Manager
CDFOM® is a 3-day course designed for individuals who need to manage Data Centre facilities either in an end-user/enterprise environment or in a Data Centre facilities provider environment such as Co-Location and/or Cloud Providers. By attending this course, the individual will enhance his/her skills and knowledge to manage the data centre more effectively and efficiently. This course covers in-depth knowledge in managing data centre operations including; setting up a data centre team, implementing key processes such as capacity planning, commissioning and de-commissioning of equipment, security and safety processes, equipment life cycle planning, document management and much more.
CDRP® - Certified Data Centre Risk Professional
Individuals with a desire to gain a deep understanding on risk management are recommended to take the CDRP®course. CDRP® focuses on the core process of managing risk in IT and/or the data centre environments and is based on the leading standards in the industry. Participants are exposed to the fundamentals of risk management, its core and supporting processes and will have the capacity of participating in risk management projects upon completion of this course.
CDSM® - Certified Data Centre Safety Manager
Certified Data Centre Safety Manager course is a course is to expose attendants to the requirements for safety in data centre operations. The course is based on the ISO/IEC 18000 (OHSAS 18000) standard and covers Occupational Health and Safety Management Systems in order to enable the businesses to be confident it is doing all it can to protect their employees. It also allows the business to ensure it is operating according to the stated health and safety policies.
CDMS® - Certified Data Centre Migration Specialist
CDMS is a 2-day course designed to expose participants to a step-by-step methodology which will enable them to reduce the risks involved when undertaking a data centre migration. The course will address a systematic approach ensuring a successful 'lift-and-shift' of an operating data centre to a new location.
Accreditation/Recognition
All EPI's courses and their related exams are internationally recognized and have been endorsed and accredited by EXIN. EXIN is a global, independent accreditation and examination institute who have certified over 2 million students globally. Accreditation by EXIN ensures quality and impartiality of the EPI certifications awarded to IT and data centre professionals who passed our certification exams.