About EPI
EPI's global services delivery is able to provide your organisation with all types of data centre services, be it data centre auditing, data centre audit certification, data centre consulting or data centre and IT training courses.  
With few exceptions, enterprises today rely on IT for the delivery of business-critical services - often directly to the end consumer. It is therefore vital that the mission critical data center is designed, maintained and operated with high-availability and efficiency in mind.
EPI has been delivering a wide range of data centre services since 1987, enabling businesses worldwide to design, implement, optimise, test, operate and maintain their mission critical data centre to ensure it meets and exceeds the business expectations.
EPI offers a wide range of globally accredited certified data centre professional training courses such as CDCP / CDCS / CDCE / CDFOM / CDRP / CDMS / CDSM / CTDC / CTIA / CTEA.  Courses enable organisations to educate and align their staff on data centre design principles, data centre efficiency, green data centre principles, data centre management, data centre operations management, security management, disaster recovery management, data centre migration, and ANSI/TIA-942 design and audit.
All courses are accredited by EXIN, an independent information management certification and accreditation body.
EPI© Data Centre Training Framework - Design/Build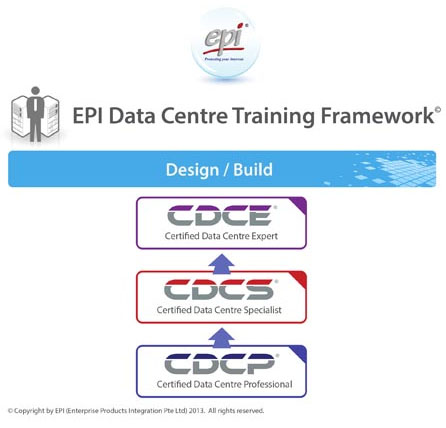 CDCP® - Certified Data Centre Professional
CDCP is a 2 –day course designed to expose participants to the key components of the data centre. It will address how to setup and improve key aspects such as power, cooling, security, cabling, safety, fire suppression etc. to ensure a hi-available data centre. It will also address key operations and maintenance aspects.
CDCS® - Certified Data Centre Specialist
For individuals who have the need to further specialize, the next level CDCS® focuses on the knowledge and criteria to enable the participant to review and make improvements on existing data centre facilities as well as to review and decide the correct implementation of new data centre facilities. This course includes a variety of engineering level calculations enabling students to verify the correctness of proposed solutions. Calculations address areas such as; battery autonomy time, fire suppression gas, EMF shielding attenuation factors, CFM/CMH etc. This level builds on top of the knowledge acquired in CDCP® hence it is a required to be a certified data centre professionals in good standing in order to follow this course.
CDCE® - Certified Data Centre Expert
Candidates with a desire to become a data centre expert are recommended to take the CDCE® course. CDCE®prepares participants to manage a project which covers scope, plan, design, implement, and retire or move a mission critical data centre up to the highest redundancy level.
CDCE® builds upon knowledge gained in CDCP® and CDCS® courses. Participants who pass the exam will join the industry's elite data centre project design experts. Participants must possess a valid CDCS® certificate for admission to the CDCE® course.
Accreditation/Recognition
All EPI's courses and their related exams are internationally recognized and have been endorsed and accredited by EXIN. EXIN is a global, independent accreditation and examination institute who have certified over 2 million students globally. Accreditation by EXIN ensures quality and impartiality of the EPI certifications awarded to IT and data centre professionals who passed our certification exams.